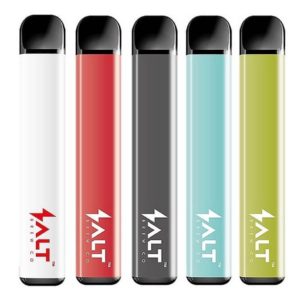 A real breakthrough in the world of vape and electronic cigarettes is the products of the SALT SWITCH brand. Liquid electronic cigarette with salt nicotine is intended for single use.
The original product, presented with laconic forms and giving the opportunity to enjoy your favorite flavors, will be the choice of those for whom style and sophistication are valuable.
The company "SALT FR" offers to become the official distributor of disposable electronic cigarette. At your request:
we will be glad to discuss any questions related to the purchase of the offered products;
We will provide comprehensive information support to both large wholesale customers and small businesses.
To contact our managers, use the contact details that you will find on our official website. We will conduct a detailed consultation and help you place your first order for disposable vape pod SALT SWITCH.
How to use SALT SWITCH electronic cigarettes?
The Electronic cigarette SALT SWITCH features an intuitive device and ease of use. Inside the product there is a container with a volume of 2 mm., in which there is an aromatic liquid heated by an atomizer.
It is this element that is responsible for the amount of steam that comes during the puff. As a result, you get pleasure from every breath and enjoy the chosen taste.
The device is activated when the first puff is taken from the mouthpiece. At first, it is recommended to do shallow, frequent puffs. So you can feel the pleasant aroma and taste of steam.
If the puff turned out to be sharp for you, then do not take frequent breaths of steam and exhale it as slowly as possible. The battery from which the device is powered cannot be recharged.
A special difference of vape SALT SWITCH is that the aromatic liquid is represented by a variety of flavor mixes:
яркие bright single fruit flavors;
оригинальные original mixes with the addition of ice;
чистый pure tobacco and so on.
After the service life of the electronic cigarette ends, it cannot be reused. The flashing of the indicator light located at the bottom of the device will indicate that it is time to buy a new cigarette.
Among the rich selection of delicious flavors, even an exquisite gourmet will be able to choose his favorite taste. Be surprised by the new and enjoy the traditions with electronic salt cigarettes SALT SWITCH.
Disposable vape pen high capacity is European quality and reliability in every detail. The robust housing of the device does not allow the liquid inside to leak out. For this reason, you can safely carry a cigarette in your pocket or purse. It is recommended to avoid the ingress of any other liquid on the body of the product.
Order disposable electronic cigarettes SALT SWITCH
Salt electronic cigarettes SALT SWITCH are officially sold in France through retail outlets, gas stations and tobacco shops. Our company offers profitable cooperation to customers all over the world.
Are you interested in large and small wholesale? Contact us, we provide comprehensive support to new customers, provides useful recommendations on opening outlets and filling stores with European quality products.
We carry out wholesale deliveries to different countries. We ship batches of products by transport companies whose representative offices operate in your region.
For a personal meeting and conversation, we are waiting for you in our office in Nice. You can also contact our managers in messengers and discuss the details of cooperation on the purchase of SALT SWITCH.