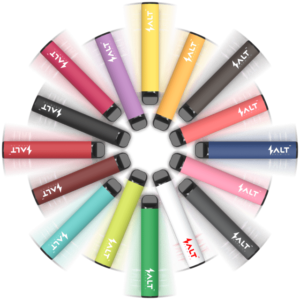 Vape electronic cigarette SALT SWITCH is an innovative product for modern adults who prefer convenience, reliability and style in everything.
Disposable electronic cigarettes that reveal a variety of flavors from traditional tobacco to original fruit flavors. This is a premium product with unique features and capabilities.
Ease of handling and true enjoyment of taste make SALT SWITCH cigarettes unique. From the first puffs, you will feel how light steam envelops and leaves an unobtrusive aftertaste of the chosen fragrance.
The SALT FR company invites you to mutually beneficial cooperation! Become a distributor of disposable vape SALT SWITCH. We successfully work with individuals and legal entities. Our direction is large and small wholesale deliveries of a unique high-quality product.
Features of Disposable vape SALT SWITCH
The uniqueness of the electronic cigarette SALT SWITCH is already evident in the appearance of the device. Laconic shapes and stylish sophisticated design make the vape SALT SWITCH not just an electronic cigarette, but also a fashion accessory that will suit both men and women equally well.
The device is intuitive. The disposable vape pen is activated immediately after inhaling from the mouthpiece. Simplicity combined with pleasure make the SALT SWITCH product unique.
You just take the device out of the package, take one light breath and the electronic cigarette is ready for further use. Liquid electronic cigarette is designed for 450 puffs, as well as:
 one small device with 1.8 ohm resistance;
напряжением voltage 3.7 V;
 powered by a 350 mAh battery, which is not subject to re-charging.
The cigarette has a light indicator located at the bottom. If the cigarette's service life has come to an end— the light bulb will start flashing. The volume of the container with a liquid of 2 ml. is heated by an atomizer, which also regulates the amount of steam.
The dimensions of the vape electronic cigarette SALT SWITCH are compact and are only 10.3x18x106 mm. The device easily fits in a jacket pocket and even in a miniature women's clutch. Thanks to this, your stylish accessory will always be nearby.
Wholesale purchase of SALT SWITCH
SALT SWITCH vape pod is a product that has already been highly appreciated in many countries of the world. Official sales of electronic cigarettes are carried out in an active mode. The goods are sold through shops, gas stations.
We offer mutually beneficial and maximally transparent terms of cooperation. If you are interested in implementing disposable vapes SALT SWITCH, we are ready to support you in the first stages.
Our managers will consult and answer any questions related to the opening of a retail outlet. We provide assistance in filling the store with a range of SALT SWITCH products.
We will be glad to see you among our regular customers. We ship products by transport companies whose representative offices are located in your region. We accept both one-time orders and bulk shipments.
SALT SWITCH electronic cigarettes give a lot of pleasure and open unique tastes for the most real gourmets. The product is of premium quality and is a real find for connoisseurs of aesthetics and sophistication in everything!