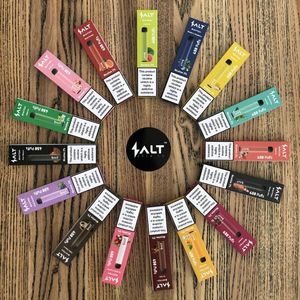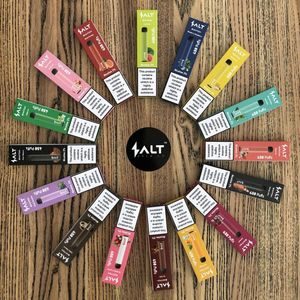 SALT SWITCH vape pod is a unique salt cigarettes designed for single use. This is a premium quality product that gives sophisticated consumers a variety of tastes.
The line includes amazing and unusual combinations that can surprise and conquer even a demanding customer
exotic fruits – banana, grapefruit, apple ice, guava, mango, watermelon, peach;
juicy berry flavors – grapes;
original mixes – blueberries with raspberries, mint, strawberries/lychees;
drinks – cocktail, coffee, energy drink, cola;
the taste of traditional tobacco.
The SALT FR company successfully implements the best disposable electronic cigarettes in tobacco shops, retail shops and gas stations, and also actively cooperates with other countries in the direction of large and small wholesale.
Main technical characteristics of disposable vape pen high capacity SALT SWITCH:
voltage 3.7;
resistance 1.8 ohms;
Battery capacity 350 mAh;
dimensions 10.3x18x106 mm.;
weight 20 gr.
We place both one-time orders and wholesale deliveries on a regular basis. Our permanent partners are organizations and individuals from different countries: Italy, Estonia, Germany, Latvia, Kazakhstan, Denmark, Slovakia, Switzerland and many others.
The company's office is geographically located in Nice, France. If you have the opportunity to visit us in person, we will be glad to have a face-to-face meeting. We also communicate via messengers that are convenient for you online.
Proper use of salt electronic cigarettes SALT SWITCH
SALT SWITCH electronic cigarette is completely ready for use. You take it out of the package, take the first puff and the device starts working automatically. From the very first breath you will feel the delicious steam with the chosen taste, which will give true pleasure to your taste buds.
An electronic cigarette stops working when air stops flowing through the mouthpiece. The vape is designed for 450 puffs. When their number is close to completion, the indicator on the cigarette case will start flashing.
There is a built-in battery inside the case, which ensures the correct operation of the device throughout the entire service life. The battery is not subject to re-charging.
Also inside the miniature case is a capsule with a volume of 2 ml., which contains an aromatic liquid. Under the influence of an atomizer, it heats up and turns into a light, fragrant steam with the help of a built-in evaporator.
Each vape electronic cigarette SALT SWITCH uses a closed-type system, characteristic only for this brand. Thanks to this, the operation of the device is adjusted in such a way that you get a sufficient amount of steam, which allows you to enjoy the delicious selected taste from the first puff.
It is profitable to buy disposable electronic cigarettes SALT SWITCH
The SALT FR company is engaged in the official sale of best disposable electronic cigarettes and invites partners to fruitful cooperation. We conclude official contracts for deliveries, guarantee transparency of work and do everything to make it convenient for customers to work with us.
We deliver orders all over the world by transport companies operating in the delivery region. For all questions, please contact the company's specialists at the specified contacts on the website.