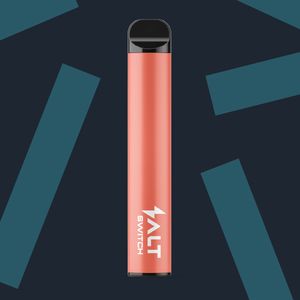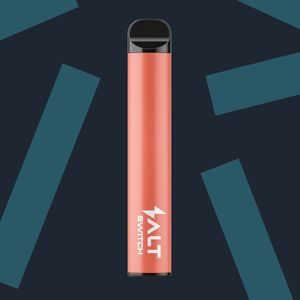 Simplicity and ease of use combined with fashionable design and laconic body shapes have made electronic cigarette SALT SWITCH a very popular and in-demand product among adults in different countries of the world.
Unique salt electronic cigarettes, designed for single use. A large palette of various delicious flavors gives a sea of pleasure from the first puff.
Thanks to the original development of the vape pen disposable, now you do not need to worry about the charger and filling with aromatic liquid, since the cigarette case has a built-in battery that is not subject to re-charging and which is enough for all 450 puffs.
Each SALT SWITCH cigarette has the following specifications:
350 mAh battery capacity;
Resistance 1.8 ohms;
Voltage 3.7 V.
A container with a liquid, the volume of which is 2 ml, is built into the case. The liquid is heated under the influence of an atomizer, which is also responsible for the amount of steam output.
The SALT FR company invites partners from different countries around the world to cooperate. We sell liquid electronic cigarette through tobacco shops, retail shops and gas stations in France.
Today our partners are individuals and organizations located in Estonia, Norway, Denmark and many other countries of the world. To start cooperation, we suggest visiting our office in Nice, France, or using any convenient messenger for online negotiations. We are ready to share with you important information on opening a vape store.
Advantages of electronic salt cigarettes SALT SWITCH
1. Safety — when using devices, gorenje products harmful to health are not released.
2. Stylish design and laconic shapes make the vape pod a fashion accessory suitable for both men and women.
3. Compact dimensions 10.3x18x106 mm. and the weight of 20 gr. allows you to carry a cigarette in your clothes pocket or in a woman's purse.
4. A variety of flavors – from traditional tobacco to delicious fruit flavor. Everyone will choose the perfect, unique taste for themselves.
5. Ease of use — you need to take the cigarette out of the package and take the first puff, after which the indicator light lights up, indicating that the vape is automatically turned on.
6. Ready-to-use product in full configuration.
Give yourself and your taste buds a real delight from the bright and rich flavors of salt electronic cigarette.
The advantages of partnership with SALT FR
Are important for us to have a well-established reputation as a responsible partner, so we do everything to make it convenient and profitable for customers to cooperate with us. We are focused on fruitful work with individuals and legal entities.
We undertake both one-time orders and permanent wholesale deliveries to any countries around the world. Employees of our company help new partners when opening a business project in the vape niche, and assist in filling the best disposable electronic cigarette outlet.
If you need additional information about the product or how to conclude a contract for the supply of SALT SWITCH electronic cigarettes, please contact us and we will be glad to discuss in detail all the nuances of mutually beneficial work.
After providing a detailed consultation, we will send to your email the optimal commercial offer with an up-to-date price list. Contact details can be found on the official website of our company.