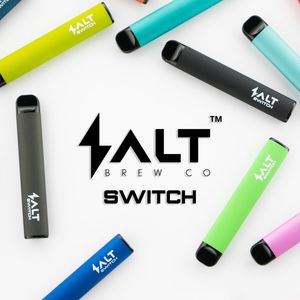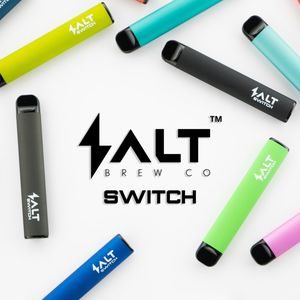 The highest European quality, rich taste variety and stylish design are all disposable electronic cigarettes SALT SWITCH. The device based on salt nicotine is popular in Europe and other countries.
This is not just a product that will replace a traditional tobacco cigarette, it is an original accessory that is equally well suited to the image of a modern man or woman.
SALT SWITCH disposable electronic cigarette differs from analogues by a number of special characteristics:
1. Easy to use.
The device is already fully equipped and ready for use. You just need to take the cigarette out of the package, take the first puff, and it will automatically start working.
2. Ergonomic mouthpiece shapes.
Every detail of the device is so thought out that it is convenient to use it on a daily basis. Laconic lines, shape and miniature dimensions, weight of 20 gr. allow you to carry vape with you in a pocket of clothes or a handbag without experiencing discomfort and inconvenience.
3. The presence of a light indicator.
The indicator, which is located at the bottom of the device, lights up in the cigarette operation mode. If it starts flashing, it means that it's time to buy a new device, as the life of the used one is coming to an end.
The SALT FR company invites customers from different countries of the world to partnership. We are actively expanding the geography of supplies of high-quality products. We successfully cooperate with clients from Austria, Estonia, Iceland, Norway, Uzbekistan, Poland and many other countries.
To discuss electronic cigarette wholesale with us, use the contacts listed on the website. For personal meetings and negotiations, we invite you to our office, which is located in Nice, France.
The principle of operation of salt cigarettes SALT SWITCH
Disposable electronic cigarette is easy to use, but very stylish. In the cigarette case there is a built-in container with a volume of 2 mm. filled with aromatic liquid, which is heated by an atomizer, also responsible for the amount of steam. The battery is built into the case and cannot be recharged again.
The body of the salt vape pod is made of durable material that adequately withstands mechanical impact and does not allow liquid to leak out. Thanks to this, you can safely carry a cigarette in your pocket without fear that it will leak or cause discomfort.
The disposable vape SALT SWITCH device starts working as soon as it is taken out of the package. It is enough to take one puff and the device is ready for use. The aromatic liquid that you inhale in the form of steam, unlike conventional cigarettes, does not contain harmful gorenje products that negatively affect the human body.
The best disposable pod SALT SWITCH collection features many different delicious flavors, among which fans of traditional cigarettes will be able to find the aroma of ordinary tobacco, and connoisseurs of exotics will pick up original fruit flavors that will give a lot of pleasure from the first puff.
Delivery of SALT SWITCH cigarettes worldwide
Today, the products of the SALT SWITCH brand are officially sold in France through stores, retail outlets and gas stations. If you have decided to become a partner of the SALT FR Company and want to sell disposable electronic cigarettes in your country, then we invite you to appreciate the advantages of mutually beneficial work offered.
Our team supports aspiring businessmen and helps to open retail outlets in an informational way. We advise on any issues of electronic cigarette wholesale, and deliver products by transport companies to any country around the world.