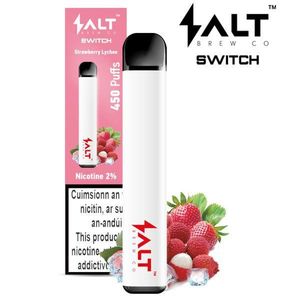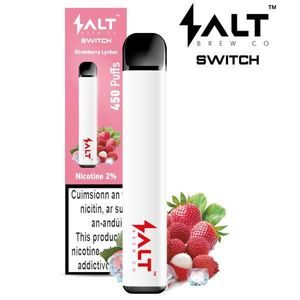 SALT SWITCH disposable electronic cigarettes are a unique product based on salt nicotine. Perfection of forms, a rich collection of flavors and excellent technical characteristics make salt electronic cigarette a sought-after accessory among men and women around the world.
The SALT FR company offers profitable partnership to individuals and legal entities from different countries. To date, we have successfully implemented the disposable vape of the proposed brand in France.
You can meet premium e-cigarettes at gas stations, tobacco shops or retail stores. We cooperate with clients from different European countries.
Liquid electronic cigarette is popular among adult men and women in countries such as Italy, Germany, Estonia, Latvia, Kazakhstan and so on.
If you want to become our partner and you have any questions regarding cooperation and doing business, we invite you to visit our office in Nice, France, or contact us via convenient messengers online.
Features of SALT SWITCH Disposable Electronic Cigarettes
Electronic cigarette of our brand has a strong, reliable case with laconic shapes. The modern and stylish design of the device has already been appreciated by many people, and they use the electronic cigarette as a fashion accessory.
A 350 mAh battery is built inside the case, which ensures the operation of the electronic cigarette throughout all 450 puffs. There is also a container with aromatic liquid and an atomizer heating it. Under the influence of an evaporator with a resistance of 1.8 ohms, the liquid is converted into steam, which is inhaled to enjoy the selected taste.
The disposable vape pen cigarette starts working after the first puff
Take the device out of the package, inhale the steam – an indicator will light up at the bottom of the case, indicating the beginning of automatic operation of the cigarette. When the air stops coming through the mouthpiece, the device will turn itself off.
If the indicator starts flashing, it means that the number of puffs is almost exhausted and you will soon have to buy a new Salt vape pen. Using an electronic cigarette, it is recommended to take shallow puffs.
This allows you to feel the taste of steam as much as possible and enjoy its aroma. If it turned out that you inhaled sharply and deeply, exhale steam slowly, and do not take deep puffs too often.
Despite the fact that the body of the product is very strong, withstands mechanical impact and does not allow the liquid inside to flow out, it is not recommended that extraneous moisture gets on it.
Advantages of salt electronic cigarettes SALT SWITCH:
1. The complete set of best disposable electronic cigarette is completely ready for use. You do not need to buy additional chargers and removable cassettes, since inside the case there is a battery, a liquid capsule, an evaporator and an atomizer that work in a closed cycle and ensure the correct functioning of the cigarette.
2. Laconic shapes, miniature dimensions and stylish design make the vape SALT SWITCH an indispensable accessory for everyday use. The electronic cigarette is convenient to carry in a pocket of clothes or purse.
3. The cigarette does not contain harmful resins, and also does not emit gorenje products.
Our company delivers salt electronic cigarette all over the world. We will be glad to new partnerships, we are aimed at expanding the geography of supplies. You can ask any questions using a convenient form of communication.